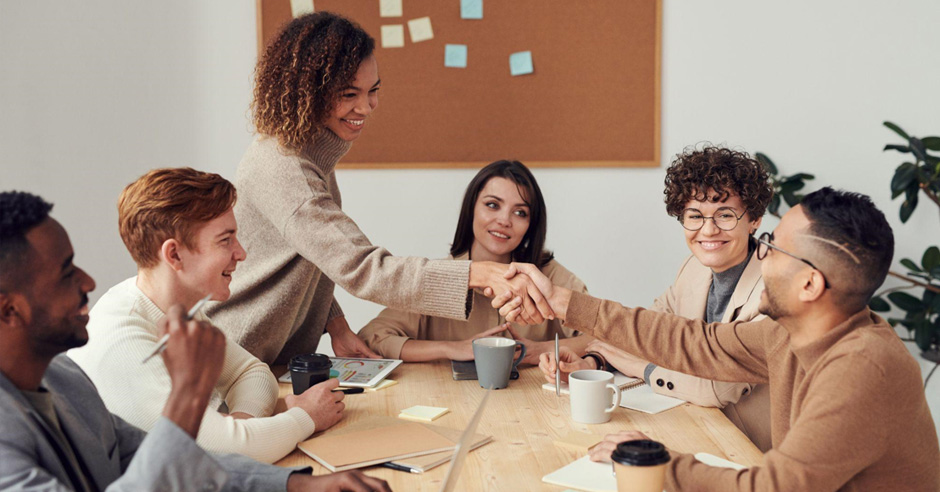 ---
Image Source: Pexels
Timely and effective collaboration between employees is crucial for the success of any business. But, this is only possible through the creation of sound internal communication processes with the help of technology such as a CMS tool, messaging applications, and more. Additionally, managers need to develop strong relationships with employees as well to empower them to promote bottom-up communication and make everyone in the organization feel heard and valued.
In this article from Drum Cafe North America, we'll explore a host of actionable tips business owners and leaders can utilize to foster communication and collaboration in their organizations.
Create a Culture of Open Communication and Automation
Creating a culture of open communication doesn't just mean encouraging employees to share their opinions, it also involves updating business processes based on their suggestions to make them feel valued. One of the best ways managers can instill a culture of open communication is to practice an open-door policy. Understandably, employees will be wary at the start to approach managers, hence initially, managers should take the lead by organizing regular team and one-on-one meetings to develop trust and rapport with team members.
Another way to foster open communication is to assign regular cross-team projects, providing employees the ability to interact with their co-workers, especially if your business is predominantly remote. Applications such as Slack or Microsoft teams are great mediums making it simple for employees to collaborate on projects and share files, opinions, and suggestions in real time.
You can also use an automation success platform and tools to automate your communication processes. Such a platform also improves workflows for optimal efficiency and productivity. This technology combines advanced process automation, data integration, and business intelligence to help organizations streamline operations, reduce costs, and improve overall business outcomes to meet the goals that have been set.
Promote Team Building Activities
In today's fast-paced business environment, where deadlines come thick and fast, employees solemnly get time during work hours to bond to discuss topics beyond the purview of work, as discussed by Enterprise League. Hence, management and experts in the human resources department need to organize regular team-building activities both within and beyond the office to bring employees closer and develop healthy work and personal relationships.
Planning a weekend retreat is a tried and tested way of fostering better work relationships. Allowing employees a relaxing and fun environment makes for a much better setting, allowing them to interact with each other beyond the confines of work projects or deadlines. Additionally, planning team activities such as hiking influence employees to work as a team and develop stronger personal bonds. Other relaxing activities to consider include periodic office lunches or happy hour events at local establishments.
Invest in a CMS
A content management system (CMS) serves as a great addition to messaging tools mentioned at the start of the article. In addition to fostering real-time communication, these tools provide complete clarity regarding content generation, editing, and publishing down to the individual level and provide all employees a bird's eye view of document iteration and status, as well as with different departments, especially in ones with whom they have dependencies.
For instance, if the marketing team needs content for a landing page for a new campaign, they don't need to waste time setting up a call with the document owner or others. Rather, they can review the progress on the CMS and prepare for publication accordingly. Additionally, such CMS solutions can be used by managers to distribute tasks among team members, set individual deadlines, and track performance, all through a single dashboard.
Embrace Diversity and Inclusion
Diversity and inclusion are popular themes in today's work environment, and rightly so. According to research by Insight Global, diverse companies are 70% more likely to capture new markets and be successful compared to those who aren't. The reason for this is simple, embracing diversity and inclusion can promote the creation and sharing of new ideas and perspectives. For instance, younger employees will be more open to undertaking risks and providing out-of-the-box ideas for challenging problems.
Moreover, creating a diverse workplace helps to make everyone feel welcome and valued, increasing their comfort level to share ideas, mingle with co-workers and develop a healthy and productive work environment.
By creating a culture of open communication, investing in a project management platform, encouraging team-building activities, and fostering a diverse work environment, business owners and leaders can improve collaboration among team members and drive business growth.
Drum Cafe North America presents a unique, hands-on approach to team building, learning and leadership development. Connect with us today to learn more! (858) 583-1960
---