---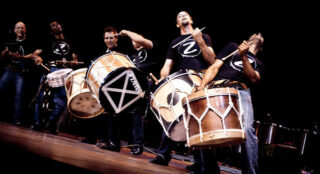 Think back to your last "all-hands" meeting or even, last quarter's sales meeting. Was it impactful? Did it resonate with your attendees? Did you see a boost in morale? 
We know and you know that these meetings can always be better. Take a minute to think about what was missing and what could be improved. Maybe it's keeping better track of time or simply getting better catering. Sure, these things might add some value to the event, but how impactful and long-lasting will those investments be for your attendees and the overall outcomes for your event?
Here at Drum Cafe North America, we think BIG. We bring psychology, music, and science together to build out all of our iconic and invigorating programming. Attendees will soak in all of the messaging to stay well-aligned with company objectives and will come out more engaged, motivated and driven as ever to hit targets and strive for success.
Here are our 4 tips to having a killer Sales Kick-Off meeting!
Keep the agenda focused and timely.

Nothing is worse than having an unproductive meeting that starts late and runs over. Stay on track and keep it moving. You only get a few all-hands meetings per year, make sure it's one to remember by keeping it productive and engaging.

Open and close the event with a BANG! We stand by this. With more and more remote employees and ever growing teams, it's hard to feel connected, build strong bonds amongst peers, and to keep everyone aligned and engaged. Make it easy for your people at these events- make sure they feel welcomed, acknowledged and pumped going into the event and leaving it. You'll see the results in their work.
Always have a guest speaker. Guest and keynote speakers are some of the most memorable additions to any event. Take the time to research and invest in someone that will deliver positive and motivational messaging while staying aligned with the overall event theme. Remember, this person is selected to speak to your teams, always keep your people top of mind throughout the booking process.
Remember, this event is for your people. For every part of the agenda, you should be thinking about how it's relevant to the audience and what takeaways you want the audience to gain from the messaging, activity or speaker. Planning an effective and memorable event takes a lot more than a catering list and a powerpoint.
Keep your employees off their phones and drive results with one of Drum Cafe North America's fully engaging and highly impactful interactive rhythmic programs. Contact us to explore options that are fully-customizable and the right fit for you.
---